Dear residents,
I know that many of you are feeling anxious about our constantly changing reality with regard to COVID-19. That's understandable. However, I'm very confident that if we work together, and follow the advice of our public health experts, the world will become far more recognizable again over time.
I've been thinking a lot about those in our society who are most vulnerable, and people feeling vulnerable, and the support they need through this experience. I've been thinking about you and your families. I believe that whether one must stay home to self isolate out of an abundance of caution like I did, or has symptoms, everyone should be able to do the right thing for society without worrying about being able to pay their rent, mortgage or for groceries. COVID-19 should be a non-partisan issue and I expect our governments, along with every political party, to work closely together to support the people we serve.
I remain actively working on our many priorities such as transit, social services, small businesses, road safety, parks and infrastructure. Even at this moment, we cannot lose sight of the importance of planning for a world that'll eventually return to a relative normal. And that normal should be even better than it was before.
And during this time, as always, let's treat each other with kindness – and remain close as a community, even if we all need to be distanced temporarily.
Community Spirit During COVID-19: Ways to Help
Josh Matlow
2020-06-12T18:42:11+00:00
Call to Action: SPRINT Senior Care's Meals on Wheels
SPRINT Senior Care's Meals on Wheels (MOW) program is volunteer-based and delivers tasty, nutritious meals directly to seniors' doors seven days a week, 365 days a year. MOW volunteers also perform security checks when delivering meals, to ensure seniors' safety.
Volunteers are the foundation of many of SPRINT Senior Care's services and we could not care for our seniors without support from over 300 volunteers annually. Due to the impact of COVID-19, we anticipate being in need of more volunteers to help us deliver Meals on Wheels.
If you are interesting in finding out more about how you can help, please contact our Volunteer Services and Human Resources Department at 416-481-0669, ext. 8723, or volunteer@sprintseniorcare.org. Visit us at www.sprintseniorcare.org to learn more about our services and programs.
________________________________________________________________________________________________
Call to Action: Friendly Neighbour Hotline
University Health Network's OpenLab is helping vulnerable seniors—the group most at risk during the COVID-19 pandemic—by mobilizing volunteers to deliver groceries and other household essentials. The service gives priority to seniors living in low-income housing.
Due to the need for social distancing, many seniors face challenges with picking up essentials like groceries. These challenges are made worse by the new reality of having to wait in long lines at some stores, which may not be possible for frail seniors, and which brings a higher risk of contracting COVID-19.
Many seniors, particularly those with low-income, do not have digital access or are unable to go online or afford the added fees for delivery services. Since this initiative was first announced on March 13, 2020, close to 600 volunteers have stepped forward to offer assistance to the thousands of seniors living in low-income housing across the city. Together, we operate the Friendly Neighbour Hotline, a single phone number seniors living in low-income housing in Toronto can call, connected to a network of volunteers throughout the city who can help with picking up groceries and household essentials during this difficult time.
Volunteers are ordinary Torontonians who want to help. All volunteers have been vetted. Vetting includes a review of government-issued ID (e.g. driver's license, passport) and two references, one of which must be from work, school or another volunteer organization. Those who have passed the vetting process attend mandatory online training before they can assist vulnerable seniors.
The UHN OpenLab team has established the processes and procedures of the operation, and consulted with City officials, collaborators, and seniors themselves to ensure a coordinated, effective and safe response. The team has long-standing relationships and projects looking at creative ways to support seniors to live independently in Toronto's vertical communities. This has allowed UHN OpenLab to get organized very quickly, and to go live with the service in just a week.
The Friendly Neighbour Hotline went live on Monday, March 23. Currently, it is only serving Toronto seniors who live in low-income housing. The toll-free Hotline is available in 180 languages: 1-855-581-9580
To download poster (PDF), click here
To become a volunteer, please complete the Volunteer Intake Form.
Health and social services agencies wishing to collaborate, please download and complete the Letter of Collaboration.
If you would like to make a donation, please visit our fundraising page.
Visit our Twitter page for daily updates.
__________________________________________________________________________________________
City of Toronto Launches New DonateTO: COVID-19 Portal to Support Pandemic Relief Efforts:
The City of Toronto is working hard to support everyone impacted by COVID-19 and there are many ways the community can support the relief efforts, including donations of personal protective equipment, other goods and services, food and financial gifts. All donations help the City, in coordination with our community partners to enhance much needed services and supports, especially for the most vulnerable and those who support them.
Residents and business wanting to help support the City's COVID-19 response and recovery efforts can visit here to make their gift or find out more about volunteer opportunities.
Residents, business and academic institutions have already reached out to the City asking how they can help support Toronto's front-line efforts. Over the last few weeks donations valued at more than $1.5 million have been received, including Hudson's Bay's donation of 2,117 units of cookware, dinnerware, towels and bed linens and mattresses with a value of $335,000 and Sleep Country Canada's donation of more than $150,000 worth of mattresses, adjustable bases, bed frames, sheets, pillows and mattress protectors, both donated to the City's Rapid Rehousing Shelter project. Additionally, personal care products and cleaning products for vulnerable residents valued at $330,000 from GlobalMedic in partnership with Procter & Gamble and more than 50,000 masks from Dr. Wong and the Stop Covid-19 volunteer group have also been received.
Any questions about donations can be directed to donate@toronto.ca.
________________________________________________________________________________________________
Volunteer Toronto Information for Volunteers and Non-Profits
Volunteer Toronto is a charity that connects volunteers to the causes that need them. In response to COVID-19, they are sharing resources for both non-profits and individuals:
For non-profits: Any non-profits or grassroots groups can contact Volunteer Toronto to start recruiting for urgent response efforts or remote support during COVID-19. Complete this short form and a staff member will reach out: https://bit.ly/2WplJX3. All fees have been waived for this service.
For individuals: Volunteers play a crucial role in helping communities fill urgent needs. For individuals looking to get involved, join Toronto's COVID-19 Volunteer Response Team here: https://info.volunteertoronto.ca/covid19. Alerts with urgent community needs are sent to your inbox every 3-7 days.
______________________________________________________________________________________________
Call to Action: Bernard Betel Center Needs Volunteers
Our community, along with the entire world, is gripped by the evolving COVID-19 pandemic. This crisis is impacting us all. But those who will suffer the most—and face the greatest risks—are the most vulnerable among us. They need us now.
Working with our social service agency partners at the Bernard Betel Centre, we are looking for volunteers to drop off meals to seniors who are homebound as part of the kosher Meals on Wheels campaign. Please connect with our colleague Cheryl Besner cherylb@betelcentre.org or 416.225.2112 ext.127 if you are able to help.
For those making the decision to work remotely or socially isolate during this time, we understand and appreciate your decision. We look forward to welcoming you to an event or program at the Bernard Betel Centre in the coming months.
________________________________________________________________________________________________
Call to Action: Toronto Bike Brigade
Concerned cyclists and Dave, The Biking Lawyer are mobilizing people on bikes in Toronto to offer volunteer delivery and support services where safe and medically acceptable to do so. We have over 150 cyclist volunteers in various areas across the city. If your organization would like to post in our group a call for cyclist support or directly email: dave@thebikinglawyer.ca, we can work to assist you.
We can also look at individual support options.
If you are able, have two good wheels, good health and a love for community support please join us!
________________________________________________________________________________________________
Spark Ontario Connects Volunteers to Your Organization:
SPARK Ontario is partnering with the Ontario government to connect volunteers with opportunities to support seniors, people with disabilities and other Ontarians requiring assistance during the COVID-19 pandemic.
All not-for-profit organizations supporting the response to COVID-19 can post volunteer opportunities at sparkontario.ca so potential volunteers can be put to work quickly.
SPARK Ontario is a free, bilingual online platform that connects your organization with potential volunteers.
Almost 20,000 volunteers have already reached out looking for ways to help!
Need help posting your opportunities? Click here
Interested in volunteering? Sign up at sparkontario.ca 
Looking for resources and support for your program or want more information about volunteering in your community? Connect with your local volunteer centre.
________________________________________________________________________________________________
Manor "with heart" Road United Church Encourages Residents to Show Their Gratitude for Frontline Workers
Our very own Manor Road United Church has started a wonderful campaign asking residents to get creative and post a sign, banner or picture in their windows, on their balconies and maybe even their front lawns expressing their gratitude for our frontline workers. Come on Midtown, let's show our grocery clerks, garbage collectors, nurses, doctors, etc. our gratitude and love!
________________________________________________________________________________________________
Feed the Frontlines!
Our very own Midtown resident, Adair Roberts, who works in the mental health and addictions sector, and is now supported by a group of caring Torontonians who have come together to get delicious, nutritious meals to Toronto's frontline health and social services workers while keeping restaurant workers employed.  All organizers of this campaign are volunteers and none are employed by the restaurants providing or the health and social services organizations receiving the meals.
All funds will be used to purchase high quality and individually-packed meals directly from our restaurant partners and deliver them to recipients at hospitals and social service centres.  You can see our current list of restaurant partners here. Please check-out their go fund me page to donate.
________________________________________________________________________________________________
St. Clair Supports the Stop.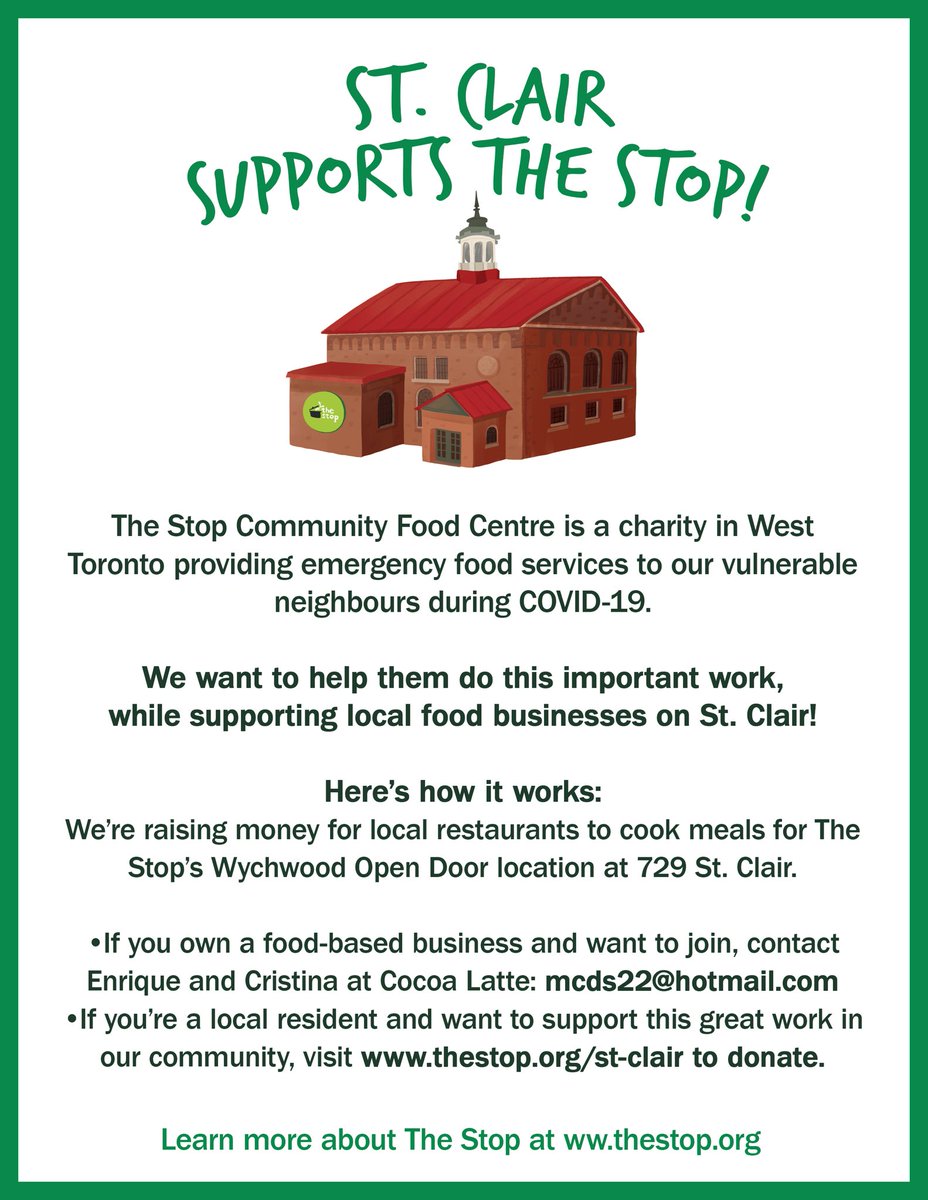 ________________________________________________________________________________________________
Johnston & Daniel Safe at Home Campaign
During the COVID-19 pandemic, we've all been asked to stay at home as much as possible to protect ourselves. But for those experiencing domestic violence, home can be anything but safe. Mount Pleasant Village realtors Johnston & Daniel have launched a campaign to raise money for women's shelters called JDSafeatHome. Every donation – no matter the size – makes a difference. 100% of all donations will be directed to local women's shelters across the GTA via the Royal LePage Shelter Foundation. Donations can be made at the JDSafeatHome Website here. 
________________________________________________________________________________________________
Check Out What's Open in Toronto-St. Paul's and Find Out How to Donate to Your Favorite Business!:
Our Toronto-St. Paul's community is home to some of the most unique and remarkable  shops, bars and restaurants. Many of them do online sales and food take out and delivery. The following BIAs have put together a list of businesses that remain open amidst this crisis- Dupont By the Castle BIA, Oakwood Village BIA, Eglinton Way BIA, Mt. Pleasant Village BIA and Hillcrest Village BIA.
In case you're looking for a way to support your favorite local shop right at home, you may want to consider making a monetary donation to them (if they're listed) on Distantly. For business owners looking to create a profile, you may do so by clicking "Add My Business", located on the top right section of their home webpage.
________________________________________________________________________________________________
St Michael and All Angels Prayer Shawl Initiative
Are you a crafter looking for ways to support the community? Join the St Michael and All Angels Prayer & Comfort Shawl Team by making shawls that will be passed on to people who are lonely or grieving through this time. If you are able to knit, crochet, sew or macrame a shawl – be in touch! If you have yarn or needles to donate – be in touch! All donated items and finished shawls will be held in quarantine for 72 hours before being delivered to crafters/ blessed and given to recipients. If you know of someone who needs a hug, some comfort, and to know they are not forgotten, please reach out. Contact St Michael and All Angels by email at smaachurchoffice@rogers.com or on Facebook here.